Lockdown diary – week eight: a behind-the-scenes peek at the refurb, our delight at support for the arts, and taking a Stoke-cation!
13th July 2020
Whilst we remain closed to the public we are busy behind the scenes at the New Vic, working hard on our auditorium refurbishment (more on that below) and planning for the future.
We are incredibly grateful to all those who continue to help in the effort against coronavirus and as the lockdown begins to ease, we look forward to being able to welcome you back to us, just as soon as we are able to reopen our doors.
An update from our Artistic Director…
Over the past weeks, we've been uplifted by hearing huge support from across the country, the media and the government for the arts sector. They've reminded us that regional theatres like the New Vic are part of a continuum including the West End, Netflix, movies and TV; confirmed our value as part of the bedrock of our nation's culture and heritage; recognised our role in enhancing health and wellbeing, shaping the identity of our area, and generating activity in the local and national economy. Oliver Dowden MP, Secretary of State for Digital, Culture and Sport, launching The Arts, Culture and Heritage Support Package on the BBC's Today programme, said:
'We'll need to protect the crown jewels – those institutions of national and international significance – but we've also been very clear that we want to ensure that this goes out across the whole county. Particularly in areas where there's very little cultural infrastructure – maybe only one theatre or one gallery – it's even more important to preserve those so you don't have a loss of that for the local community.'
We look forward to hearing more about the scheme.
We're also glad to hear that outdoor performances will shortly be able to take place, and look forward to supporting our colleagues who are doing this.
Transforming our auditorium…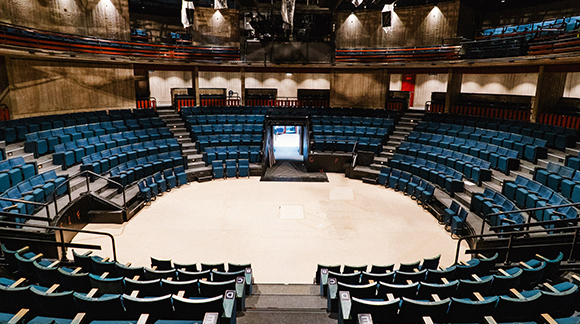 Three weeks ago work began on the biggest redevelopment project the New Vic has undertaken since the theatre was built 34 years ago. And what a three weeks it has been!
Novus, our building contractors, moved in and started the process of stripping out our old auditorium straight away. The first big job was to remove all of our old seats. Each seat in our auditorium was independently attached to the floor, so they had to be unscrewed individually and removed from the rows. Race, the manufacturers who will be making our new seating, came along during this time to take the old seating away and they will recycle all of the elements that they are able to.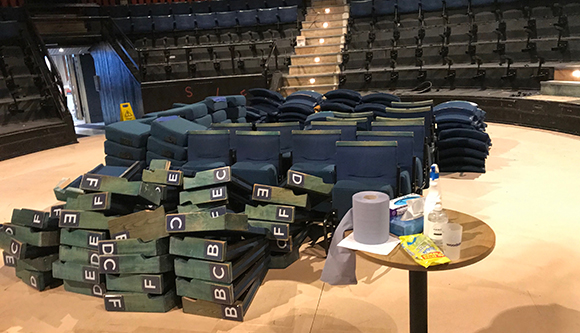 Following this, the builders moved onto pulling up the existing carpets and removing some walls from behind a couple of our boxes to enable us to increase spaces for wheelchair users. And as well as work inside our auditorium, work has also begun on upgrading our front of house toilets…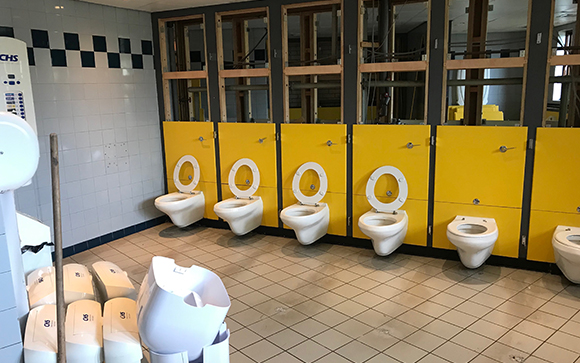 Watch a timelapse video of the works so far here and keep up-to-date with all the latest news from our refurbishment, including more photographs from the site, on our website here.
A change of schedule…
This week we announced that we are postponing our production of Marvellous, a brand new play based on the life of local hero Neil 'Nello' Baldwin, to Friday 30 April – Sat 22 May 2021.
Due to the uncertainty around when theatres will be able to reopen to the public for performances we have taken the decision to reschedule the production so that we can ensure that when we bring this fantastic story to life on stage, we can do it for the audiences we promised it to with confidence.
Our Box Office team are in the process of contacting all customers who have tickets booked.
In other news…
If you're making plans for the summer, make sure to keep an eye on the Visit Stoke website. Their new 'Stoke-cation' campaign highlights all the great things we can get up to right on our doorstep, and offers plenty of ideas to keep all the family entertained this summer! Click here to find out more.
Also, don't forget to keep an eye on @NewcastleBID, @StokeonTrentBID and @EnjoyStaffs on Twitter to find out what's happening and what's open in our area.
New Vic recommends…
You can now watch the full series of emotional monologues, The Greatest Wealth, in celebration of the NHS from our friends-in-name The Old Vic. The monologues, written by the likes of Jack Thorne and Bernadine Evaristo, and directed by Adrian Lester, and were originally staged in 2018 to mark the 70th anniversary of the NHS, but feel especially poignant at this time, so we're thrilled to be able to watch them online here.
We can't wait to welcome you back through our doors as soon as we are able to. Until then, take care and stay safe!