Lockdown diary – week nine: online Astley Fest, Borderlines' latest documentary film, and another refurb update!
31st July 2020
Although our building remains closed to the public, it is fair to say things have been quite full-on at the New Vic over the past few weeks. We're pleased to say that great progress is being made with our refurbishment, plus there's some exciting virtual events that we're looking forward to celebrating very soon including Astley Fest and the Three Counties Exhibition (more on all of these below!)
We continue to be so grateful to all key workers, and others who have been working tirelessly to help in the effort against coronavirus. We look forward to being able to welcome you back to us, just as soon as we are able to reopen our doors .
An update from our Artistic Director
Two years ago we were lucky enough to be able to work with partners from all over the country and the world to celebrate the legacy of Philip Astley.
Welsh company NoFit State Circus pitched two big tops on Newcastle's Ryecroft site and made a new show, Lexicon, which then toured to Adelaide, Avignon and London. The Victoria & Albert Museum curated an outdoor exhibition from their archive. South America's brilliant Circolombia, which works with disadvantaged young people, brought their amazing international show to Kidsgrove, and the UK's National Youth Circus participants flocked to our town centre. The New Vic created a special show for children called Cabinet of Curiosities, and a new play on our main stage, Astley's Astounding Adventures, told the story of Philip Astley.
Astley was brought up in Newcastle-under-Lyme. He was the son of a cabinet maker, and he ran away to join the cavalry where he rose up through the ranks, becoming a brilliant and acrobatic horseman. After he left the army he opened a riding school, where his displays of trick riding became legendary; he began to vary an evening's entertainment by adding clowns and jugglers, then he added a roof to his riding school and brought in musicians… he had invented the modern circus. This was back in 1768. He took his invention all over the world, and it still thrives today, so it is fitting that we celebrate the legacy of our local hero.
The Philip Astley Project is helping us all to do just that, working with our Appetite programme to create an online Astley Fest on 1 August. Please join us for this special celebration which will include activities for all the family. We're inviting you to turn your home into a circus for the day and send us your images.
Find out more and join in on the day by following the action on the Appetite and Philip Astley Project Facebook pages.
Our transformation continues…
It's been another busy few weeks for our refurbishment project!
We've made some fantastic strides forward, including installing some new joinery on the auditorium steps which will allow us to install improved lighting in the stairs. We've also had a new induction loop fitted for our hard-of-hearing customers.
Meanwhile upstairs on the balcony, scaffolding has been erected so that the old balcony balustrade can be removed, and some heavy-duty timber risers have been installed ready to make way for the new J-row seats.
Elsewhere in the building, the toilets have been completely gutted, re-plastered, and initial electrical work has been completed.
The next jobs in the auditorium will be getting the carpet laid down, and removing the metal work on G-row of the seats and around the tunnels to backstage.
We will continue to keep you updated as work progresses.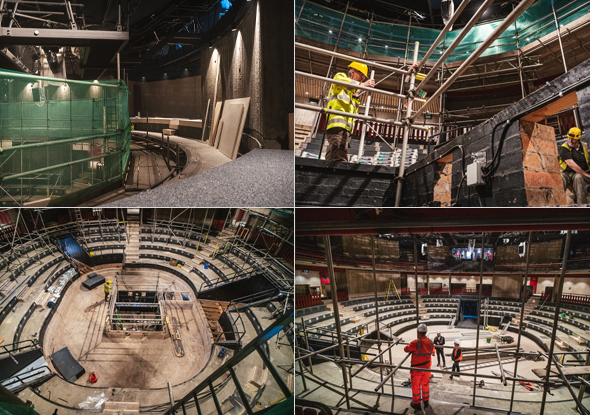 Our Borderlines department release A Song for Bosnia and Herzegovina on the 25th anniversary of Srebrenica genocide
Due to the coronavirus pandemic, a live Borderlines performance planned for 2020, to mark the 25th anniversary of the Srebrenica genocide, was not able to go ahead this year. Instead the true words, experiences and testimonies of survivors and artists have been used as the basis for this poignant documentary film A Song for Bosnia and Herzegovina. You can read more about the project here.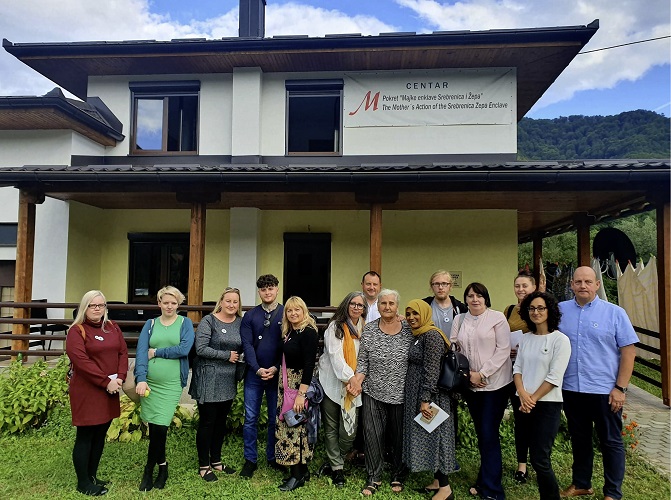 In other news…
The Three Counties Open Art Exhibition – celebrating artwork from brilliant creatives across Staffordshire, Cheshire and Shropshire – is taking place online this year, and once again the New Vic Archive Fund is supporting The Arthur Berry Prize award of £300, to be won by one talented artist. The exhibition will be available to view online from today, with more information coming soon here.
We can't wait to welcome you back through our doors as soon as we are able to. Until then, take care and stay safe.