Abigail Middleton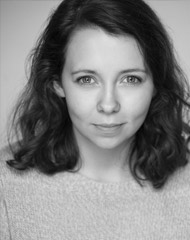 Abigail Middleton
Fritz / Honey Envoy /Snowflake / Gingerbread
This is Abigail's first appearance at the New Vic.
Theatre credits include: The Vernons Girls (Royal Court Theatre Liverpool); A Christmas Carol (Shakespeare North Playhouse); The Misadventures of Pinocchio The Radical Robot Girl! (The BohemiansTheatre Company); What the Ladybird Heard (Palace Theatre West End / UK Tour – 2022 Olivier Nomination); Wicked Witch of the West (St Helens Theatre Royal), Pig, Scouse Pacific (Royal Court Theatre Liverpool); Kiss Me Quickstep (Queens Theatre Hornchurch, New Wolsey Ipswich, Theatr Clwyd).
Television credits include: Kätcher (Commercial).
Abigail trained at Rose Bruford College on the Actor-Musicianship Course.