Alex Day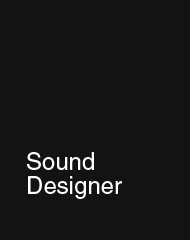 Alex Day
Sound Designer
Sound Designs for the New Vic: Astley's Astounding Adventures (2023), The Card, Alice In Wonderland, Marvellous
(2022); Tom, Dick, & Harry (and Alexandra Palace), Ghostlight, The 39 Steps, Votes For Women, Beryl, The Mountaintop.
Co-Designer for the New Vic: Coppelia – A Mystery, Beauty & The Beast, Hoard Rediscovered, The Prince and The Pauper,
Astley's Astounding Adventures (2018), Treasure Island, The Snow Queen (UK Theatre Award: Best Show for Children and
Young People); Peter Pan in Scarlet (co-production with Oxford Playhouse); Kiss Me Quickstep (co-production with Oldham Coliseum); Robin Hood & Marian, Dracula.
Associate Sound Designer: The Strange Undoing of Prudencia Hart, Around The World In 80 Days (and at the Royal Exchange; on a UK tour; in London, New York and Florida; winner of the Cameo Page to Stage Award).