Anji Carroll CDG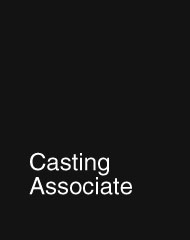 Anji Carroll CDG
Casting Associate
For the New Vic: Diana of Dobson's, Kiss Me Quickstep, Tale Trail to Robin Hood & Marian, Robin Hood & Marian, Seeing the Lights, The Hoard Festival, Ladykillers, Dracula, Bell, Book and Candle, The Borrowers, Ghosts, A History of Falling Things, Around the World in Eighty Days, Inherit the Wind,I Don't Want to Set the World on Fire!, The Memory of Water, The Hundred and One Dalmatians, Stones in His Pockets, Widowers' Houses, The Thrill of Love, Talking Heads, A Christmas Carol, The Widowing of Mrs Holroyd, A Bright Fine Day Today, Far from the Madding Crowd, Where Have I Been All My Life?, Alice in Wonderland, The Glass Menagerie, The Admirable Crichton, Spring and Port Wine, Proof, The Rivals, Bus Stop, Peter Pan, Desire Under the Elms, Copenhagen, Bleak House, Dumb Show, Honeymoon Suite.
Other theatre credits include: Judgement Day (The Print Room); Precious Little Talent (Trafalgar Studios; Best Play at the London Theatre Festival Awards 2011); Othello, Richard III (Ludlow Festival); The Ladykillers, Twelfth Night, The Deep Blue Sea, Macbeth and The Notebook of Trigorin (Northcott) and The Wizard of Oz, Who's Afraid of Virginia Woolf?, Antigone, The Beggar's Opera, A Chorus of Disapproval, Henry IV, Parts One and Two, The Wind in the Willows, Betrayal (Bristol Old Vic).
Television includes: Inside the Titanic (Channel5); BBC 2's comedy drama series The Cup; The Bill (over fifty episodes); The Sarah Jane Adventures–Invasion of the Bane; two series of London's Burning (thirty-two episodes), The Knock (four 90-minute episodes).
Other credits include: feature film: Papadopoulos & Sons, West Is West, Mrs Ratcliffe's Revolution, Out of Depth and The Jolly Boys' Last Stand; drama-documentary Curiosity' What Sank Titanic?, Mayday, Joan of Arc, and BBC Radio4 political drama series Number 10.
Anji is a member of the Casting Directors' Guild of Great Britain.