Ashley Gerlach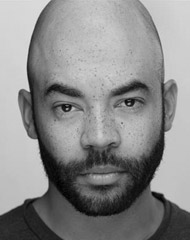 Ashley Gerlach
Actor 1
This is Ashley's first appearance at the New Vic.
Theatre credits include: Beauty And The Beast (Theatre By The Lake); Hamlet (Shit Faced Shakespeare); Storylab (Tricycle/Kiln Theatre); Heather (Bush Theatre / UK Tour / Edinburgh Festival); Soho Young Playwright (Soho Theatre); Romeo & Juliet, Macbeth (National Theatre); You Forgot The Mince (Imagine If); The Events (Gothenberg English Studio Theatre – GEST); Home Theatre, Dick Whittington (Theatre Royal Stratford East); All My Sons (Talawa – UK Tour); The Nutcracker, The Legend Of Captain Crow's Teeth, Text Generation (Unicorn Theatre); Breaking Point (Acting Out Productions); Alice In The Walled Garden (Sixteen Feet); Borderline Vultures (The Lowry / Happystorm Theatre); Where The Flowers Grow (Warehouse Theatre); 7 New Plays By Young Writers (Kids Company and National Theatre Studio); Herons (Falling Leaves); Touched, Herons (NSDF); Gut Girls, Mary Stuart, The Wedding Party, Harvest (Manchester Metropolitan School of Theatre).
Television credits include: The Barking Murders (ITV productions); The Midnight Beast (Warp Films for Channel 4); Up! (BBC Comedy); The Manny Norte Show (Hey Buddy Productions); Rock and Chips (BBC); The Bill (Talkback Thames).
Film credits include: A Dangerous Way to Live, Requiem (Jaffa Films).
Radio credits include: Y.T and The Soprano (BBC Radio 4); RIP Boy (Red Productions/BBC Radio 4); Nina Black (Crosslab Productions for BBC).