Beverley Norris-Edmunds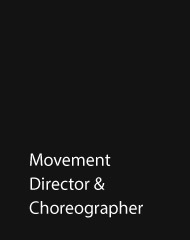 Beverley Norris-Edmunds
Movement Director & Choreographer
For the New Vic: Alice in Wonderland, Marvellous (and @sohoplace); Tom Dick & Harry (and at Alexandra Palace); Beauty and the Beast, Coppelia – A Mystery, The 39 Steps, The Prince and The Pauper, Handbagged, Much Ado About Nothing, Cyrano (co-production with Northern Broadsides); Around The World In 80 Days (and at the Royal Exchange; on a UK tour;
in London, New York and Florida; winner of the Cameo Page to Stage Award); Astley's Astounding Adventures, Playhouse
Creatures, Treasure Island, The Snow Queen (UK Theatre Award: Best Show for Children and Young People); Peter Pan in Scarlet,
Kiss Me Quickstep, I Don't Want To Set The World On Fire, The Hundred and One Dalmatians, The Borrowers, A Christmas Carol,
Where Have I Been All My Life, The Lion, The Witch and The Wardrobe, Anna of the Five Towns, Laurel and Hardy, The Wizard
of Oz, The Glee Club, Sweeney Todd, Oliver, Amadeus, Stepping Out, Privates on Parade, From a Jack to a King, Moll Flanders.
Other Choreography includes: The Worst Witch (UK tour and Vaudeville Theatre winner of the Olivier Award for
Best Family Show 2020); The Great Gatsby, Pride and Prejudice (Storyhouse Chester).
Numerous productions for Oldham Coliseum including: Stepping Out, Sweet Charity, O What a Lovely War, Chicago (MEN Theatre Award for Best Ensemble).
Numerous productions for Royal Court Liverpool including: Vernon Girls, A Thong for Europe, Girls Don't Play Guitars, Scouse Pacific, Our Day Out the Musical.
Other credits include: The Card, The D Road (Claybody Theatre); Hard Times, For Love or Money, Much Ado About
Nothing (co-production with New Vic); A Winter's Tale, Loves Labours Lost, Lisa's Sex Strike (Northern Broadsides); Romeo
and Juliet, Treasure Island, The Tempest (Imaginarium Theatre company in association with Shakespeare North); The Man Without a Past (New Perspectives Theatre Company); Wolf Red (Tmesis Theatre Company).
Touring: Return to the Forbidden Planet, Carmen.
Television credits include: Disney's The Evermoor Chronicles, Coronation Street, Butterfly, Hollyoaks, CBeebie's The Magic Door,
Sunny D, Fernando Torres Nike Commercial, September Song and O Jerusalem (feature film).
Beverley has also worked on productions for the Royal Exchange Theatre Manchester, Bolton Octagon, West Yorkshire Playhouse, Birmingham Rep, Liverpool Everyman & Playhouse, Belgrade Theatre Coventry, Liverpool Empire, Stephen Joseph
Theatre Scarborough, Hull Truck, Haymarket Basingstoke and Harrogate Theatre.