Bill Champion.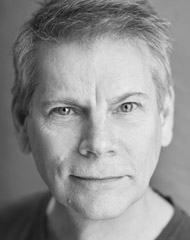 Bill Champion
Rob
Bill has appeared in Stephen Joseph Theatre productions many times, including: Season's Greetings, Henceforward…, Absurd Person Singular and Surprises (all plus UK tours); Arrivals and Departures (and UK tour and New York); Woman in Mind (and Vaudeville Theatre); the Damsels in Distress trilogy (and the West End); No Knowing, Farcicals, Intimate Exchanges, A Chorus of Disapproval, I Ought to be in  Pictures, Haunting Julie, Love Songs for Shopkeepers.
Other theatre credits include: The Last Temptation of Boris Johnson (UK tour); Moll Flanders (Mercury Theatre, Colchester); By Jeeves (Bowness on Windermere); All Things Considered (Esk Valley Theatre); This Is My Family (Sheffield Theatres); Design for Living (Salisbury Playhouse); Calendar Girls (Noël Coward Theatre); If I Were You (Library Theatre, Manchester); Season's Greetings (Yvonne Arnaud Theatre Guildford); House & Garden (Salisbury Playhouse); Wild Wild Women (Orange Tree Theatre Richmond); Comic Potential (West End); Sunset Boulevard (The Really Useful group Ltd); Fame (Cambridge Theatre); Pickwick (tour) and Cabaret (Bolton Octagon).
Television and film credits include: Holby City, Blitz, The Bill, Wallis and Edward, If…, Island At War, Messiah, Casualty, Bob Martin, Birds of a Feather, Rockcliffe's Babies and Omnibus: Voice of the City – Irving Berlin at 100.