Helen Keeley.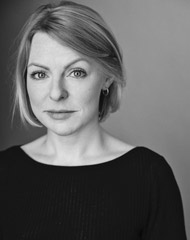 Helen Keeley
Eva Jackson
Training: Drama Studio London (Spotlight Prize Nominee).
For LCT:  Private Lives, The Importance of Being Earnest.
Theatre includes: The Picture of Dorian Gray (Trafalgar Studios & UK Tour); YapYapYap (Battersea Arts Centre); Half (Southwark Playhouse); Perfect Wedding and The Late Edwina Black (Sheringham Rep); To The End (Southwark Playhouse); Jane Eyre (Rosemary Branch Theatre); The Cherry Orchard (DogOrange Productions); A Summer Day's Dream (Finborough Theatre).
Television and Film includes: Eastenders (BBC); Where To Now (MeedaFilms).