Lis Evans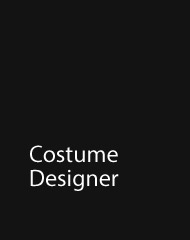 Lis Evans
Costume Designer
As Resident Designer for the New Vic, Lis has designed over 120 productions including:
Costume designs for: Alice in Wonderland, Tom, Dick & Harry (and at Alexandra Palace); The Prince and the Pauper, Beauty
and the Beast, The Wind in The Willows, Treasure Island, Astley's Astounding Adventures.
Set & Costume designs for: Marvellous (and @sohoplace); Coppelia – A Mystery, Hoard: Rediscovered, Two, Much Ado About
Nothing (Northern Broadsides co-production, and international tour). Playhouse Creatures, The Pitmen Painters, Around The World In 80 Days (and at the Royal Exchange; on a UK tour; in London, New York and Florida; winner of the Cameo Page to
Stage Award); Dial M for Murder, Cyrano (co-production with Northern Broadsides); The Snow Queen (UK Theatre Award:
Best Show for Children and Young People); The Mountaintop, Talent, Diana of Dobson's, Robin Hood & Marian, The Hoard
Festival, Dracula, Merry Wives, I Don't Want to Set the World on Fire!, An August Bank Holiday Lark, The Hundred and One Dalmatians, Stones in His Pockets, Talking Heads, A Christmas Carol, Proof, Spring and Port Wine.
Lis has also worked in collaboration with the New Vic Education department on Tale Trail to Coppelia and the outdoor
Woodland Camp, and with Appetite on the Newcastle Common pop-up shop project in Newcastle town centre.
Other Theatre credits include: The Canterbury Tales, Merry Wives, Romeo and Juliet, Vacuum, The Tempest (Northern
Broadsides UK and China Tour) and design, painting and making various productions in Nottingham, Manchester, Bradford,
Edinburgh and London.
Lis has contributed to the National Life Stories collection for the British Library's sound archive.
Costume drawings by Lis from various New Vic Productions are currently on display on the New Vic Front-of-House
lampshades.