Michael Hugo.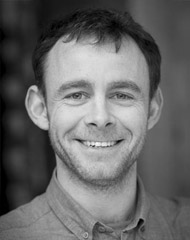 Michael Hugo
Dr Coppelius
For the New Vic:  The 39 Steps 2020, Around The World In 80 Days U.S Transfer, The 39 Steps, Astley's Astounding Adventures, Around The World In 80 Days (2017 co-production with Kenny Wax Family Entertainment and Simon Friend and Royal Exchange); Cyrano (co-production with Northern Broadsides); Peter Pan In Scarlet, The Lady Killers (co-production with Hull Truck); The Borrowers, Around the World in 80 Days, Far From the Madding Crowd, Where Have I Been All My Life, Alice in Wonderland, The Admirable Crichton, Proof, The Rivals, Peter Pan, Lion, the Witch & the Wardrobe, The Wicked Lady, Great Expectations, Stags and Hens, Christmas Carol, Pinocchio, Kes.​​​​​​​
At the New Vic: They Don't Pay? We Won't Pay!, The Winter's Tale, The Grand Gesture, Accidental Death of an Anarchist, The Canterbury Tales, Lisa's Sex Strike, The Tempest, Vacuum (Northern Broadsides).
Theatre credits include: Cinderella (Dukes Theatre, Lancaster) Cinderella (Lawrence Batley Theatre); Frozen (Fingersmiths); The Hunt for the Scroobius Pip(Sticks Theatre Co.) Wind in the Willows (Birmingham Rep); Broken Time (Three Stones Media); Peter Pan (Spiller's); Babes in the Wood (Oldham Coliseum); Breaking the Code (Chester Gateway); The Rise and Fall of Little Voice (Oldham Coliseum).​
Television and Commercial credits include: Coronation Street (ITV); Hero Goalie (Abbot Meade Vickers BBDO); I'm With Stupid (BBC); Sir Gadabout (Alibi Productions); A Right Charlie, The Collector.