Naomi Petersen.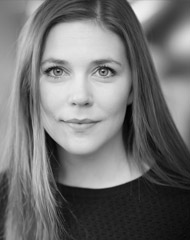 Naomi Petersen
Lily
Theatre credits include: Birthdays Past, Birthdays Present, Joking Apart, Better Off Dead (SJT); By Jeeves (The Old Laundry Theatre); The Sorcerer's Apprentice (Ambassadors); I Am Telling You I'm Not Going (Pleasance); Tender Loving Care (New Theatre Royal Portsmouth); The Witches of Eastwick (Watermill); Ashes (Arcola); Angus, Thongs and Even More Snogging (West Yorkshire Playhouse); Schnapps (Lyric Hammersmith).
TV and film credits include: Drifters (Bwark); Jitterman (Raedar Productions); Pop Sludge (4Music); At First Sight (Rankin Film Productions).
Radio credits include: Joseph Morpurgo's Walking Tour (BBC Radio 4).
Naomi is Head of Creative Development at leading London improv comedy theatre The Free Association, where she also teaches and performs.