Paul Sandys.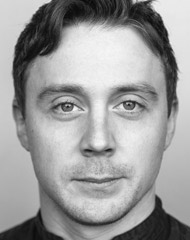 Paul Sandys
Sidney Hopcroft
Training: Webber Douglas Academy of Dramatic Arts and the Central School of Speech and Drama.
For LCT: Private Lives,  Entertaining Mr Sloane,  The Importance of Being Earnest.
For the New Vic: Peter Pan
Theatre includes: Dr Longitude's Marvellous Imaginary Menagerie (Les Enfants Terribles); Out of the Sun (The New Actors Company); Friend or Foe (Scamp Theatre).
Television and Film includes: The Sprint King (Michael Etherington Productions); Apple Tree House (BBC).