Sarah Groake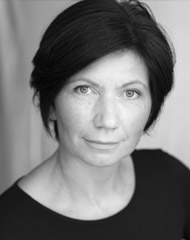 Sarah Groarke
Theatre includes: Letter Reader, My White Best Friend (Eclipse Theatre);Remembering The Way (King's Arms/Rising Moon Productions); Lost Boy Racer (Lawrence Batley Theatre and tour); Blonde Bombshells of 1943 (Oldham Coliseum); Bus Stop, Silence, Shining City (Theatre By The Lake); Grimm Tales (Library Theatre Company); Matilda and Duffy, Arabian Nights (Watermill Theatre); A Streetcar Named Desire (Nuffield Theatre); A Christmas Carol (Bolton Octagon); Animal Farm (Theatre Royal, Bath); Blonde Bombshells of 1943 (Bolton Octagon/Hampstead Theatre); Oliver! (New Vic Theatre); Macbeth (Southwark Playhouse); Arabian Nights (Plymouth New Theatre Royal); Day Trippers (Ipswich New Wolsey Theatre/Theatre Clwyd); Blonde Bombshells of 1943 (West Yorkshire Playhouse); Good Golly Miss Molly! (Oldham Coliseum/Haymarket Basingstoke); Taking Steps, Henry V (Ryan Theatre); The Drowned World (Judi Dench Theatre); Just So! (Polka Theatre); In Charge (Tobacco Factory); Treasure Island (Tobacco Factory); The Government Inspector, Oh! What A Lovely War, Pericles (New Vic Studio); Sir Thomas More (Bath Shakespeare Festival).
Television includes: The Bay, Coronation Street, Emmerdale, ITV; Brassic, Sky; Hollyoaks, Lime Pictures; Death By Home, BBC.
Radio includes: Maloney's Big Moment, The Ladies' Paradise.
Short film includes: A Quiet Night In