William Fox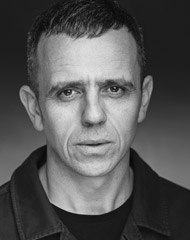 William Fox
Phil
This is William's first appearance at the New Vic.
Theatre credits include: Rabbitskin, Promised Land (Red Ladder); Playing The Joker (Red Ladder, WYP); United We Stand (Townsend Productions); Flotsam and Gypsum (JB Shorts); Terminal (Whiteface Theatre); Trainspotting (Spud Theatre); When I Say I Love You.
Television credits include:  Coronation Street (ITV); The A word, The Syndicate (BBC1); Wolfblood,  Jamie Johnson (CBBC); That Day We Sang, The Selfish Giant, Attack Of The Adult Babies, Suicide Kelly, Heretic, Shades Of Living, Finding Laura.
Film credits include: Peterloo.