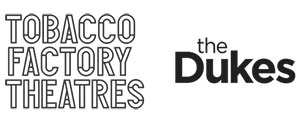 By Jonathan Harvey
Directed by Mike Tweddle
Beautiful Thing is a play that has charmed and delighted audiences across the world and inspired a cult film of the same name. This production, in the play's 25th anniversary year, features pop songs from the '60s and '90s performed live each night by a local community choir the Clay Chorus.
Teenagers Ste and Jamie are next door neighbours on the Thamesmead estate in South London. Jamie's being bullied at school and Ste's being bullied at home. One evening when it all gets too much, Ste seeks refuge at Jamie's and something frightening and beautiful begins.
Beautiful Thing offers a razor-sharp depiction of life and love on a post-war council estate, and a gloriously nostalgic trip back to the early nineties. Coronation Street writer Jonathan Harvey is at his insightful and hilarious best in this iconic story, which shows how community can lift you out of isolation and suffering.
Recommended Age: 14+
Please note: Electronic cigarettes will be used during this production.
Approx running times:
7.30pm – 9.35pm
Interval 8.25pm – 8.45pm