Schools
We have a simple ambition: an enjoyable trip for pupils; a stress-free visit for staff.
Prices
School groups £12.00 per ticket (£12.50 for the Beauty and The Beast)
Free teachers' tickets
A free teacher's ticket for every 10 children's tickets bought.
Reserved parking
Free, reserved parking on our patrolled, on-site car-park.
Easy to get to… safe… secure
We're only a few hundred yards from the A500 and less than 15 minutes from M6 Junctions 15 or 16. With our on-site car-park, your group is dropped only yards from the door and is back on the coach in minutes. You never have to leave our grounds so can enjoy a safe and secure visit.
Workshops and support for schools
New Vic Education has programme of work suitable for KS1 and KS2 based on aspects of our productions. Find out more here or contact them on 01782 381366 for more information.
How to book
Our Group Bookings Officer, Lyndsay Wood, will be happy to arrange all the details of your visit. She can advise on performance times, prices, getting here, parking and much more.
Tel: 01782 717962
Email: tickets@newvictheatre.org.uk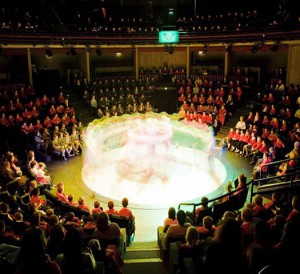 Christmas production
For our Christmas shows, we also offer:
Assisted places
Up to six free tickets for schools bringing a group. Please allocate these at your discretion; we hope it means children who might otherwise have missed out are able to join the trip. Let us know when booking if you require these.
Free tea & coffee
As a contribution to a hard-working day, a free cup of tea or coffee for teachers accompanying school parties. We hope it helps!
Interval ice-cream reservations
Avoid the queues by reserving the interval refreshments you need. They'll be waiting for you to pick them up. Box Office will help with the details.
Areas for packed lunches
For schools travelling long distances, we have areas for packed lunches. We have limited space and you must book in advance.
Tickets for fundraising
Six pairs of tickets (for any show other than the Christmas production) to use to benefit your school – as raffle prizes, for an auction, or as a reward for hard-working colleagues. Ask for these when booking.
Foyer exhibition of pupils' work
Schools coming to the New Vic at Christmas have the opportunity to contribute to our Christmas exhibition, one of the highlights of the New Vic's year. Our audiences love it and the children are always excited to see their work exhibited.