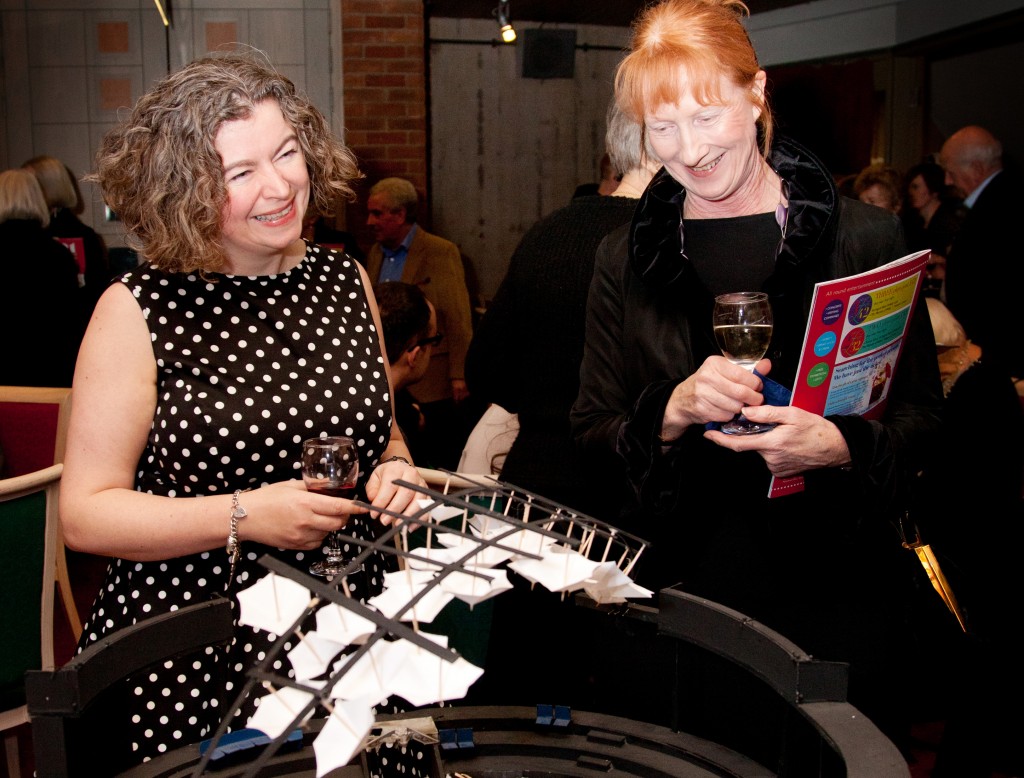 Our Patrons
Our sincere thanks to all New Vic Patrons. Their support is invaluable.
Anniversary Patrons
Joan Axson; Janet Bennett; Shelley Brooker; Tricia Budd; David Budgett; Mark and Carol Eastwood; Janice Edwards; Jean Foden; John and Sheila Freeman; Angela Glendenning; Martin Harrison; Pam and John Hindley; Mark & Denise Hodgkinson; Susan Holland; Jean Hollings; Ifor Jones and Esther Morris-Jones; J Lamont; Allan and Eleanor Lewington; Diane Llewellyn; Susan Marsh; Anthony Martin; Keith Mason; Margaret Michell; Jane Morris; Kathy and Paul Niblett; John and Kathy Norman; Kath and Walter Partington; Richard Platt; Philip Potts; Robin Powell; Judith and Jason Rowley; Gareth Snell; Sophia Snell; Mr Spilsbury; Mr and Mrs Tallentire; Catherine Taylor; Philip Taylor; John Turner; Warren Winfield
New Vic Patrons' Circle
Graham Bagnall; Constance Bailey; Debra Bailey; Peter Bakkenist; David and Jane Baldwin; Mr C I and Mrs J Barcroft; Alan Barnett; Mark Barnish; David and Anne Becket; Pamela Beech; Ian Bell; R and B Beniston; Nick Bentley; Colin Billings; Brian and Wendy Bishop; Gillian Boughey; Dorothy Boult; S and J Boulton; Dr Susan Bradbury; Mrs Sandra Brassey; David Broome; Mavis Brown; Dr Roger Brown; Michael Buckley ; Gwyneth Burrell; Stephen Butt; Ann Calder; Sandy Calder; Bryan and Jean Carnes; Terry and Judith Carter; John Charlesworth; George Chaytors; Romy Cheeseman; Colin Cooper; Jane Cooper; Cyril and Eileen Cox; Albert and Celia Crew; David Dickinson; Bob Dickson; Clive and Debbie Drinkwater; Ian and Jane Dudson; Quentin and Rachel Duerden; Graham & Suzanne Edwards; Shirley Ellwood; Elizabeth Evans; Sir Brian Fender; Bob Flower; Ivan Forster; Irene Frost; David and Margaret Gartside; John Goodier; Tim and Jenny Gray; Christine Haycock; Philippa Hemsley; Sheila Holdsworth; Zoe Elizabeth Hollingsworth; Nik Hookey; Dawn Howard; Sheila Howells; Tessa and Rod Howgate; Railton and Janet Hyde; Philip James; Clive Joynson; Gill Laver; Anthony Lewis; Mr Leyland; Barry Lincoln; Sue Lister; Angela Mayer; David McCann; Wendy McKie; Graham and Jenny Melmoth; Janis and Eric Miles; Eunice Mortimer; Jennie Murray; Fay Nelms; Shirley Nicolas; Roderick Niven; Miss E Parry; Ralph and Katy Phipps; Leslie Powner; David Puxley; Steve and Pat Read; Jenny Richardson; R Robards; Neil Robinson and Laura Channon; Carol Rowley; Peter Ruck; Graham Russell; David and Liz Salmon; David and Judy Sandy; Janette Seaber; M Shallcross; Paul Shenton; Jonathan Shepherd; June Skidmore; Phil Smith; Anne Smith; Jeremy Sowter; Karen Spragg; Jennifer Spruce; Lora Stock; Terry Stock; Paul Stone; Sallie Tams; Ian Atherton and Jane Tillier; Ken and Sheila Tunstall; Nigel Vernon; Fiona Wallace; Colin Webb; Kathleen and Norman Webb; Vernon Wilson; Suzanne Withington; Mike Woolford and Ann Southall; Brian Woolley; Adrian Yearsley
New Vic Patrons
Tessa Abberley; Sheila Allen; Reginold Anslow; Judi Ash; Joy Attwood-Harris; Sarah Bailey; Mrs Baker; C Barks; Jeanette Barlow; Eileen Barnett; Barbara Bax; Susan Benning; Karen Berrisford; Michael Berrisford; D Billinge; Eric Birks; John Bloor; Angela Boardman; Jean Bode; Deborah Bond; Richard Bray; Margaret Brooks; Stephen Brunton; Richard Bunn; John Buttery; Jane Cameron; C Campbell; Peter Carlen; Anne Carter; Angela Caton; Dr Richard Cave; Mrs Patricia Cave; Arthur Chell; Veronica Christmas; Jacqueline Francis; John Clayton; Rose Cliff; Thelma Cliffe; John and Patricia Coates; Philip Collins; Albert Cooper; Andrew Corn; Jenny Crump; E Crutchley; G S D'Arcy; Mike Davey; C Davidson; Terence Davis; Janice Dawson; Paul Day; Yvonne Dick; Peter Donaldson; S Donnelly; Mrs Drage; David Dugdale; Clive Dyer; Anita Eborall; Mr Elds; Mike Elkin; Frances Evans; Mrs Farrington; Robert Fincham; Jan Firth; John Fisher; Jacqueline Francis; Mrs Karen Freeman; Stuart Gadsen; Stephen Gladden; Kathleen Golby; M Graham; Malcolm Green; George Green; Don and Toni Haines; Peter Hale; Liz Hall; Susan Hallam; Sheila Hallmark; Jane Hamer; Eileen and Rodney Hampson; Miss Haslock; Prof Garth Hastings; M Hatchard; Mrs Hayes; Mr and Mrs Hearman; Geoff Heath; Brenda Hennessey; P Hicken; Mr Hopkins; May Howard; Margaret Hughes; Elizabeth Hurr; Fred Jeffries; Suzanne Jeffries; A Johnson; E Johnson; Timothy Johnson; Jilly Johnston; Trevor Jones; Mihlela Keleman; Dorothy M Knott; C Krahenbuhl; Mr and Mrs W G Kynaston; David Littlemore; Kevin Lovatt; Harry Lowe; Ronald Lucas; Philip Lund; J Macbeth; Mrs Audrey Macintyre; Sarah Macintyre; Annette Majekodunmi; N Marshall; Pamela Massey; Christine McMillan; B Montgomery; Martin Moore; John Mottram; John and Lindy Mucklow; Mrs Mullinar; Michael Newton; Frank Nicholson; Vivian Nixson; Mrs E Nussbaum; John Nutter; Mrs Owens; Margaret Penaluna; Beryl Phelps; Paul Phillips; Sarah Pickering; Sarah Pitt; Joan Potts; John Powell; Geoff Price; George Pritchard; T and E Probert; Helen Ralph; Janette Rangeley; Joyce Radcliffe; Sue Ray; Lynda Roberts; Victor Roberts; Agnes Rogers; Michael Rowley; Ron and Marilyn Rushton; Robert Rutherford; Melvyn Ryder; Bridget Self; Norman Sharp; Josephine Sheldon; Elizabeth Shenton; Anne Shimwell; Frank Simpson; Diane Smeed; Anne Smith; Cheryl Smith; Sue Spruce; Margaret Steele; Rita Strolin; Michael Sutcliffe; Jane Taylor; Stephen Thomas; Ann Thompson; Geoffrey Thompstone; John and Pam Tindall; Judy Tindall; Susan Urwin; P A Wallbank; Joan Walley; Timothy Waye; Martin Wesley; Mr James and Joyce White; Mr Whitehead; Ronald Wilson; Rosamond Wilson; Mr Wise; Howard Wraight; Eddie York
Many thanks also to our Patrons who wish to remain anonymous.