Lockdown diary – week seven: auditorium refurb update, supporting English Tourism Week, and news from the Froncysyllte Male Voice Choir
29th May 2020
It's that time again where we bring you our weekly update from the New Vic. We hope that despite the difficult circumstances currently, these email newsletters continue to raise a smile and your spirits. We are so grateful to everybody continuing to help in the effort against coronavirus.
This week we give an exciting update about our auditorium refurbishment, are celebrating English Tourism Week, and bring you an update from our longstanding friends the Froncysyllte Male Voice Choir.
Stay safe – we hope to see you again when it is safe for us to reopen.
An update from our Artistic Director…
Like many in the country I have been 'work dressing' from the waist up and 'lazy dressing' from the waist down, in order to appear presentable in the many video meetings that have characterised working from home. But over the last fortnight there have been a few meetings that could only be done face-to-face in the actual theatre, so I've been reaching into the forgotten section of the work wardrobe. And, from the darkness, fishing out actual shoes instead of slippers.
The reason a few of us have needed to meet in the building is because things like looking at colour swatches, and testing seats and sightlines, needs to be done on site and face to face. Because I'm delighted to say that the auditorium refurbishment we've been planning for this summer is going full steam ahead.
So we've been meeting to finalise the colour and fabric for the new seats, the wood finishes, the carpet colour and pile. There's been balustrading to think about, and other construction elements which are unpredictable in such an unusual auditorium. The seating manufacturer created a prototype seat, and we tested it by… sitting in it, of course. And imagining what it would be like to be you, sitting in that seat and watching a production in the New Vic.
There are a number of very lovely things about this whole experience. One is that we've been eager for some time to improve your experience of visiting us, and this is going to make lots of very positive changes. A second lovely thing is that, whilst so many theatres in the country are dark and silent, the New Vic is busy and alive and moving forward. The third lovely thing is that the New Vic's original architect, John Sambrook, has emerged from retirement to support this new project. After designing Europe's first purpose-built theatre in the round in 1986, and returning to design the new workspace annexe in 2009, we are delighted and very grateful to him that he continues to be part of the New Vic story.
Now, I can't tell you here what choices have been made about colours and whatnot, but I can tell you that we are planning a special unveiling which we will share with you in the not-to-distance-future. Watch this space…
In this week's staff Q&A we've put the Spotlight On our Head of Production Suzy Somerville. We chat to Suzy about her fascinatingly varied career, what's currently keeping her busy, standing ovations, and homemade halloumi! You can read it on the New Vic blog here.
Join us in celebrating English Tourism Week online!
English Tourism Week is currently being celebrated (virtually) until 31 May, and whilst we're really sad we can't welcome audiences to our theatre right now, we hope that in the meantime, you can join us in sharing your favourite things about the New Vic (and other Staffordshire attractions!) on social media with the hashtag #EnglishTourismWeek20. Your great memories at the theatre mean so much to us, and are really keeping us positive during this time!

In other news…
The Froncysyllte Male Voice Choir have been performing at the New Vic for 33 consecutive years and we're sure many of their fans will be wondering how they are getting on during this time. They have put together some lovely video updates, with highlights from past performances for you to enjoy while you're not able to see them live. You can watch the latest one here (and there's a new one each Saturday at 7pm!)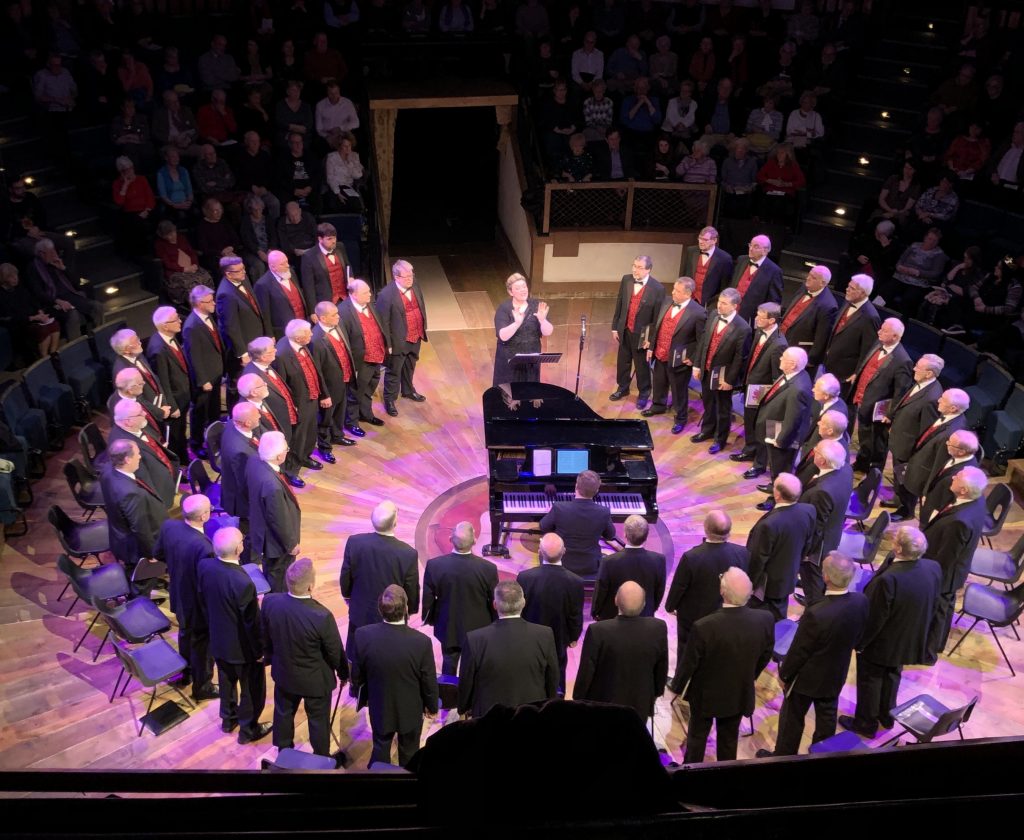 What's happening elsewhere?
The Bristol Old Vic starts streaming a weekly programme of popular past productions on its YouTube channel from today. It begins with a powerful dramatisation of Handel's Messiah tonight at 7pm, and future shows will include A Monster Calls and The Grinning Man musical (based on the Victor Hugo novel The Man Who Laughs). You can watch them here.